July 2017
An impact of earthquake proportions
Thomas Richter invented the Richter scale. This is a logarithmic scale based on the factor of 10, for example, an earthquake of 6 has 10 times the energy of an earthquake of 5. The impact of earthquakes is something very close to the hearts of New Zealanders as we are more than familiar with the colossal impacts they can have on people's lives, communities and the economy at large. The 2011 Christchurch earthquake materially affected the lives of 350,000 people, and will cost circa $50b and take around 15 years to rebuild the city. The real impacts will be far greater and longer than this.
Four years before the Christchurch earthquake, the Clark/Cullen Labour government launched KiwiSaver. The 10th birthday of this event has just passed and is a great time to reflect on the wider impacts on New Zealand, investment markets and individuals. With total savings nearing $41b and 2.7m KiwiSaver members, it is fair to say that today KiwiSaver has changed New Zealand for good. However, these numbers are only part of the story.
The really interesting numbers are not where KiwiSaver balances are today after ten years, but the scale at which they are increasing. Treasury's latest estimates have KiwiSaver balances doubling every three to four years, meaning the impacts over time are on a logarithmic basis, although not quite at the Richter scale level. Even then, New Zealand trails many other nations in preparing for retirement.
Many countries who have had a long term commitment to retirement savings (e.g. Australia, UK, USA, Canada, Switzerland and The Netherlands) have pension assets of over 100% of their national GDP. New Zealand's current GDP is $265b, which dwarfs the current $41b saved in KiwiSaver. So while KiwiSaver has been a success so far, we've only just begun. When New Zealand matches the maturity of these other western nations, the average KiwiSaver balance will be more like $100,000 per member, rather than the existing $15,000.
It is the personal stories behind KiwiSaver though that really matter, rather than the numbers. There are amazing stories from first home buyers and those in, or close to, retirement and the impact their KiwiSaver balances have had on them. As part of the KiwiSaver 10th birthday celebrations, Fisher Funds has profiled a number of our earliest KiwiSaver clients who joined in 2007. You can read their stories online.
There is though another large group not included in these stories. Those who feel empowered by KiwiSaver and proud of their own efforts taking control of their and their family's future retirement lifestyle. Many thousands of Fisher Funds clients carry around a contentment and genuine excitement about the future as a result. This positive aspect cannot be measured in dollars, just like the real personal cost of earthquakes.
This month's newsletter is unashamedly about the last ten years in investment markets and the impact of KiwiSaver. Sometimes it is important to reflect. While people will contemplate major events like the GFC or the Christchurch earthquakes, ongoing everyday game changers like KiwiSaver can be forgotten.
As an aside, it was interesting witnessing Wellingtonians guessing the magnitude of aftershocks following the 7.8 Kaikoura earthquake of 2016. People get pretty good at this and our Christchurch citizens are expert at it. It's time to get New Zealanders similarly engaged in estimating their KiwiSaver balances. This really can have an impact of earthquake proportions.
Bruce McLachlan
Chief Executive Officer | Fisher Funds
---
Your KiwiSaver portfolios: Highlights and lowlights
A snapshot of the key factors driving the performance of markets and your portfolios last month.
New Zealand
The NZX50 share market rose for the sixth month in a row, adding another 2.6% in June and taking the market to +10.6% for the year, broadly in line with global share markets. The market has now regained all the ground it lost in September and October last year. The New Zealand part of the portfolio was up 2%.
For the third month in a row, Fisher & Paykel Healthcare was our top contributor for the month, up 8.3%. However, the best performing stock in the portfolio was Restaurant Brands, up 13.3%. The company reported a strong start to the financial year with same store sales growth in its KFC NZ business +7.1% and KFC Australia +7.7%, ahead of expectations. Michael Hill was down 7.3% and was the largest drag on the portfolio performance as the Australian consumer continues to be under pressure.
---
Australia
The Australian share market ended a volatile month much where it started. There was little in the way of company specific information, with many companies finalising their financial year-ends. The share market moved on a variety of micro-themes over the period, the dominant of these being shifting energy prices, agonising around the detrimental effect of Amazon's entry into Australia on the competitiveness of retailers, and a variety of real and imagined mergers and acquisitions. The Australian part of the portfolio was slightly ahead of the market, benefiting from continued strong momentum in key holdings like CSL, ResMed and CarSales.com. Controversy around the potential outcome of an investigation into wage fraud at Dominos continued to plague the company's share price.
---
International
The International part of the portfolio fell 2.7% in June. Our lower than benchmark exposure to the Energy sector, which sold off on weak oil prices, was a contributor to returns, with our overweight exposure to Healthcare the next largest. The New Zealand Dollar rose +3.5% against the US Dollar, causing our absolute returns to fall as our offshore investments are now relatively less valuable when converted back into NZD.

A top contributor to returns was ecommerce giant Alibaba who last month announced higher than expected sales growth, driving the share price up 15%. JPMorgan Chase, Citigroup and Oracle were the other major contributors, up 11%, 10% and 10.5% respectively. Apple was hit harder than the rest of the Technology sector which experienced a sell off during the month, after recently reaching record highs it was down 6%. Roche and Comcast were also down 8% and 6% respectively.
---
Fixed income
The persistence of our global fixed income managers to maintain their underweight stance towards interest rate exposure (i.e. duration) was vindicated this month. As bonds sold off, their portfolios fared far better than the market. On the domestic side, our New Zealand fixed income portfolio also outperformed, driven by a small selection of our corporate bond investments that managed to buck the trend.
Despite this, the lowlight in June was the negative return our funds generated this month. Driven by a broad-based sell-off in global bonds markets on the back of rising interest rates. On the positive side, a number of key investment decisions (stated above) allowed for a strong outperformance relative to our benchmarks.
---
Your KiwiSaver portfolios
KiwiSaver investors rewarded for going the distance
By Mark Brighouse, Chief Investment Officer
Warren Buffett often says that we should only buy shares that we would be happy to hold if the market were to shut for the next ten years. This has always been a useful test when choosing an investment. Am I confident enough in the investment to not look at it again for ten years and to not care what the price does in the meantime?
Well, people who signed up to KiwiSaver in 2007 have now had a ten year timeframe. If they hadn't opened a newspaper or turned on the TV over the past decade, they would have avoided an enormous amount of angst about market turmoil. Not only that, they could now be looking at their balances, feeling good about their progress and mistakenly concluding that it must have been a pretty dull old time in the markets for the past ten years.
What they would have missed is the Global Financial Crisis, or GFC, which caused sharemarkets to halve in value, numerous housing markets around the world to collapse and left many people financially ruined. The first events of the GFC were actually unfolding only a month after KiwiSaver launched in July 2007. French bank BNP Paribas froze three of their funds that held sub-prime loan exposure in what was the first move by a major bank to acknowledge the rising risk of such investments.
That led to much debate in the early years of KiwiSaver about whether growth-oriented funds were a good idea. Everyone knew that a long term investment plan should include a considerable weighting toward shares, but as prices fell more conservative funds were doing so much better. An investor who ignored all this short term turmoil and focused on their long term goals would have enjoyed the stronger returns from share markets that followed from 2009 as you can see in the following table.
Share market index
Total returns
30/06/07 to 09/03/09
Total returns
10/03/09 to 30/06/17
NZX50 Index of NZ Shares
-41.7%
+208.3%
S&P 500 Index of US Shares
-53.1%
+326.5%
Who would have thought that a retirement saving scheme that kicked off just ahead of the GFC would end up delivering success for so many people ten years later? Much of this is due to a triumph of the long term over the short term. The chart below of the S&P 500 Index clearly illustrates the journey KiwiSaver investors have been on and ultimately profited from.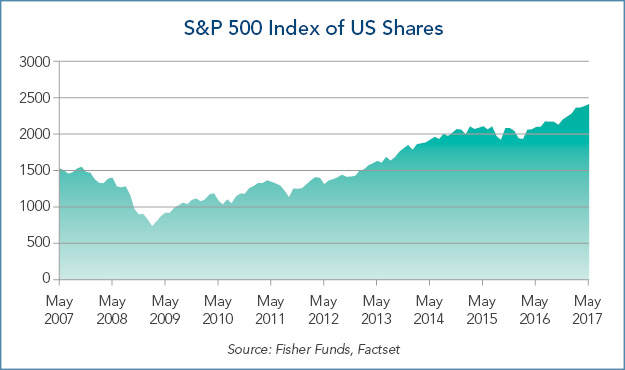 Any KiwiSaver members who heeded Buffett's advice and were able to pretend the market was closed for the decade and ignored any short term news would have stuck with their strategy and kept on contributing; this is what would have led to the balances they are seeing now.
This type of investor would also have missed a host of other distractions in addition to the GFC including: a plunge in commodity prices, deflation in China, tension in the Eurozone, negative interest rates, the UK's Brexit vote and, of course, the US election of Donald Trump.
Every single one of these events came with dire predictions about the end of the world as we know it and could easily have prompted a KiwiSaver investor to abandon their saving plan. But as we stated earlier, sticking with a strategy you will be happy to hold for ten years, regardless of what the price of the investment does during that time, is a good way to ensure that you don't get distracted by the news.
---
KiwiSaver — emotional and financial gains
By Michael Raynes, Head of Distribution and Communications
KiwiSaver has been a part of Kiwis' lives since July 2007. Ten whole years.
We've been a champion of KiwiSaver since day one advocating for Kiwis to get on board and save for their first home and/or retirement. And Kiwis have got on board — over 2.7m of us — which is a success in itself.
This month we're seeing lots of coverage in the media about what ten years of KiwiSaver means. At Fisher Funds, the real success of KiwiSaver for us is how it has helped make a difference to the lives of so many of our members.
We've been canvassing some of our members who have been with us for that ten year journey and it's been awesome to hear first-hand what KiwiSaver means to them.
And while the money they have saved is really important, what shone through in every case was how KiwiSaver has lifted their confidence, hope and optimism for their future.
KiwiSaver is clearly about more than just numbers. It's about emotional gains as well as financial gains.
We've showcased some of these stories in a special feature on our website — Kiwis celebrating KiwiSaver. There's every chance you'll see yourself in one of these stories or hopefully you'll take inspiration from the success of others.
Hear from Helen who has spent the last three years travelling since she retired, all funded by her KiwiSaver account.
Then there's Lucy and Alison who have got themselves onto the property ladder thanks to KiwiSaver. Buying a first home is more challenging than ever but KiwiSaver can and is increasingly helping people through the front door — could you be next?
Sharon is overjoyed that her KiwiSaver savings are allowing her to re-carpet her home; something she didn't think was possible.
David loves the fact his KiwiSaver nest egg is being actively managed and a team of professionals are on his side. It allows him to focus on making the most of his working years.
As a self-employed businessman, Neil rates joining KiwiSaver as one of the smartest things he's done. There's nowhere else he can get $10 back for every $20 he saves.
The Gould family are a great example of how KiwiSaver can help an entire family.
We think there is a story here for everyone.
But what does KiwiSaver mean to you? If you've got a story to share, we'd love to hear it.
---
Through thick and thin — ten years with these eight companies
By Frank Jasper, Director
At Fisher Funds, we've always talked about the importance of investing for the long term. We seek to invest in companies that have sustainable competitive advantages that allow them to deliver, regardless of the economic environment of the day. Over the last ten years, the economic environment has been anything but normal so the companies we invest in have had to be resilient.
Looking at the Fisher Funds KiwiSaver Scheme Growth Fund, the following companies have stood the test of time; proving themselves to be robust. These companies have been part of the portfolio since KiwiSaver started (and part of the Fisher Funds TWO KiwiSaver Scheme Growth Fund since Fisher Funds took over management of the Scheme in 2013). That's right, since 2007-08 we have invested in the following companies.
Company
Country
Annualised Return (%)
incl. share price change & dividends
Freightways
New Zealand
13.2
Delegat Group
New Zealand
13.7
Infratil
New Zealand
5.7
Mainfreight
New Zealand
16.2
Ryman Healthcare
New Zealand
17.6
AUB Group
Australia
16.7
Credit Corp
Australia
9.4
Tox Free Solutions
Australia
1.9
Source: Fisher Funds, Factset
For some of these companies the last ten years hasn't been smooth sailing. So what is it they have that has seen them deliver above-market returns and keep us invested over the long term?
We think there are several common, defining features:
High quality management running the company who have a clear vision and strategy for where the company is headed
A history of growing their business and growing their profits
Quality, established businesses who are market leaders in their field.
The contribution these companies have made to your returns cannot be underestimated. For example, every $1,000 we've invested in Ryman Healthcare is now worth $5,000 (a profit of $4,000). As we've discussed many times, Ryman is New Zealand's leading retirement village operator and is benefiting from our aging population. Similarly, Freightways is the dominant player in the domestic express parcel market as people shift to buying things online and having them delivered to their home or workplace.
Across the Tasman, AUB Group's "owner-driver" model creates a strong incentive for the principals of the insurance brokerages in which it takes a stake to continue to grow their businesses. This alignment has benefited AUB shareholders with both individual brokerages growing and the size of AUB Group's network increasing.
Over the last 10 years a series of strategic acquisitions has enabled Tox Free to fulfil its vision of becoming Australia's leading hazardous waste processor. Unfortunately the steep decline in capital expenditure in the mining sector over recent years has meant that healthy growth in Tox Free's EPS over the decade has not been reflected in its share price performance.
You might think eight companies is a small sample but since 2007 we've continued to identify and add many other companies to your portfolios that will remain core holdings over the next decade. We hope to be talking with you about them in another ten years' time.
---
What a difference a decade makes
By Carmel Fisher, Director
KiwiSaver is ten years old. How's your first KiwiSaver decade been? Has it lived up to your expectations?
I can tell you that as a KiwiSaver provider, our expectations have been blown out of the water, as have those of the Government and Treasury. New Zealand's retirement savings scheme has been embraced by far more Kiwis than ever imagined, with $41 billion in retirement savings to date.
In the Fisher Funds KiwiSaver schemes alone we've earned more than $1 billion (after fees) for our members.
I remember having reservations when the idea of KiwiSaver was first mooted. While the Australian superannuation scheme was very successful, I wasn't convinced Kiwis would welcome such a savings scheme. We tend to be somewhat conservative and prefer houses and bank deposits over managed funds and share market investments.
Still, we were assured by the Government there were enough features to make joining KiwiSaver virtually a no-brainer. (This term came up often when we spoke to our clients to celebrate ten years of KiwiSaver.)
To quote a Sunday Star Times article from April 2007:
"Who should open a KiwiSaver account? Everyone. There's a $1,000 sweetener for every new account opened. Okay, savers don't get the money until age 65, but by then compound interest would have been at work.
People aged 60 to 65: They're near to retirement, and so should be saving like billy-o anyway, so not claiming the free $1000, which they'll get their hands on in five years or less, would be criminal.
Children: Yes, they too can have a KiwiSaver account, and damn well should, though parents will have signing rights. Why not get them that $1000 while it's there to be had.
Young-uns starting out at work, but aiming to buy a home later: After three years, KiwiSavers who don't own a home will be able to withdraw their contributions to help with a deposit. Parents, don't let your kids mess this up. Open them an account, so their inaction won't shut them out of this opportunity when they most need it.
People whose bosses will chip in free money: When was the last time you turned down an offer of free money? I suspect the answer is: "Never did, never would".
The financially illiterate: What better way to learn about the markets and investment than dipping a toe in the water through a well- diversified fund, drip-feeding money into the markets over time."
This article was prophetic; over the years I've spoken to many KiwiSaver members who have benefited from the $1000 kickstart (which unfortunately is no longer available), the home deposit boost, employer contributions and the ability to learn while they earned.
Importantly, they've become accustomed to a portion of their earnings being diverted into a long-term savings scheme they can't access. KiwiSaver has helped people become committed savers; when they may not otherwise have been.
Compared to ten years ago people have learned about financial markets and money concepts, which sets them up well for their future in KiwiSaver, and beyond.
KiwiSaver is doing its job well. We talk to happy KiwiSaver members every day. Let me tell you, that enthusiasm is relatively rare in the staid financial services industry.
Happy tenth birthday KiwiSaver; you're doing good.
---