February 2018
2018: Is GFC2 really coming?
Davos is a ski resort in Switzerland where the worlds business and political elite gather each January to discuss world economic affairs. Me, I would rather be on a New Zealand beach at that time or watching the tennis, however for many, Davos is the centre of world attention at that time rather than the other Swiss newsmaker Roger Federer.
This year though there were a number of high profile presentations and interviews that grabbed the world's attention. From early feedback from Fisher Funds clients my guess is they have captured your attention as well. In particular, the claim that "All the market indicators right now look very similar to what we saw before the Lehman and GFC crisis, but the lesson has somehow been forgotten" from Swiss-based head of the OECD's review board and ex-chief economist for the Bank for International Settlements William Whites. This comment caused some alarm and consternation with some New Zealand investors. At Fisher Funds, we witnessed the odd instance of bizarre and irrational investor behaviour to this early New Year coverage; namely poor investment decisions being based on very little rational thought and almost panicky in its nature.
For many years now and long preceding my time here at Fisher Funds, great effort has gone into making investment understandable, enjoyable and profitable for Fisher Funds clients. Much of that communication has emphasised the differences between investment and speculation, the value of risk management and long term thinking, and the notion of not trying to predict the future, but preparing for it. There is no need for irrational and panicky behaviour if investors have followed the basics.
Even though not any of us can predict the future with any degree of certainty, our very own Chief Investment Officer Frank Jasper addressed this very topic at the end of 2017. In it, Frank spoke to the fact it is widely known that many market valuations are stretched, however Frank also noted that the lead indicators that highlight the prospects for international company earnings were mainly positive. This led Frank to conclude there was unlikely to be any major market correction in the immediate future, however fund managers like ourselves would have their work cut out to find pockets of value and opportunity in this environment.
More recently, we have seen sharp sell offs in global markets triggered by risks of higher inflation and rising interest rates. Volatility is very much on the rise. These corrections have been healthy for markets that have been very overvalued, and proves once again markets are never a one-way bet.
This is where active management of your investments is important. Low fee passive funds are getting some coverage right now given they have ridden the positive investment environment over the last few years. For many New Zealanders these passive investments do not offer support and peace of mind which increases the risk of irrational investor behaviour in dark times. The real benefit of being with a reputable active manager like Fisher Funds is in the more complex and difficult investment environments like that we have ahead of us. There is no need to act irrationally or panic if you have selected your investments carefully, and your investment manager even more carefully. William White may not be wrong and GFC2 is around the corner, however you can rest easy at the beach or at the tennis. Let Frank and his team do the worrying for you.
Bruce McLachlan
Chief Executive | Fisher Funds
---
Managing your KiwiSaver account — KiwiSaver: Top 5 things you must know
By Fisher Funds
Being the start of a new year, it's a good time to be thinking about all things financial so make sure you are KiwiSaver Savvy with our top 5 things you must know.

It can work for you — even if you aren't working
Even if you are not working or self-employed you can still join and take advantage of certain benefits. If you can afford to contribute the equivalent of $20 per week ($1042.86 per year) then the Government will contribute up to $10 per week (521.43 per year) each KiwiSaver year. Note this applies to members between 18 and 65.

Being in the right fund matters
Even a small increase in the average annual return on your savings can make a significant difference to the value of those savings when you retire — so one of the most important decisions you can make is how you want your savings invested.
Fisher Funds offers a range of funds. Your timeframe, goals, and risk tolerance will indicate what investment strategy is right for you. If you're looking for a review, our Investor Profile Questionnaire is a good place to start.

Your KiwiSaver money is yours
Although we manage your investment, when you contribute to your KiwiSaver we never touch your actual money. Instead it is held in trust by an independent custodian in your name. Fisher Funds uses New Zealand's oldest trust company Trustees Executors for this purpose and they've been in the business of keeping Kiwis' money safe from prying hands since 1881! Members can also have peace of mind that if they were to pass away their funds will form part of their estate.

It might be more flexible than you thought
You can make lump sum payments at any time. If you're worried that your circumstances might change and you can't afford to continue contributing, then relax: KiwiSaver has a contribution holiday. Although you don't pay for this, be aware the cost of such a holiday can be high in the long term and may significantly impact your retirement lifestyle because you miss out on the powerful effect of compounding returns.

Access KiwiSaver for your first home or retirement
KiwiSaver has been designed as a retirement tool meaning you can access your savings at age 65. You have a number of options available to you at this time. Learn more about using KiwiSaver in retirement here. You may also be eligible to use your KiwiSaver to help you buy your first home.
---
Your KiwiSaver portfolios: Highlights and lowlights
New Zealand
The New Zealand share market had a sluggish January until rallying on the last day of the month The NZ Growth Fund returned 0.7% which was slightly ahead of the benchmark NZX50 at 0.5%. The highest performing sectors for the New Zealand share market overall were consumer staples, materials and industrials. Leading the way for our portfolio were Xero (+7.9%) and Freightways Limited (4.3%). Drags on performance for the month were in the healthcare sector, with Abano Healthcare, EBOS and Fisher & Paykal Healthcare underperforming.
---
Australia
2018 got off to a positive start for the Australian portfolio with a return of 0.6% for the month outperforming its ASX200 benchmark, which was down slightly. The portfolio benefited from overweight positions in the Healthcare and IT sectors, which are known for the combination of quality and higher earnings growth that we seek. Healthcare stock Resmed delivered a Q2 FY18 earnings result that showed solid revenue growth and an encouraging improvement in margins.
IT stock WiseTech was the standout in their sector despite no specific news from the company. The IT sector also provided our laggard for the month, NEXTDC. We suspect January's share price weakness was likely driven by a broker report suggesting sluggish sales at its second Melbourne data centre. We take a longer term view. Given the exponential growth of data usage, we expect the company to earn attractive returns on the capital it is deploying in new capacity.
---
International
The International Equity fund underperformed its benchmark in January, returning 1.3% versus the S&P Global Large Mid Cap which rose 1.5%. A notable drag on performance was our overweight position in AT&T, which fell in value despite the buoyant market. A slight source of underperformance was lower exposure than the benchmark to the top performing sectors globally Information Technology and Consumer Discretionary both rising 3.35% in value. The fund has a lower than benchmark weighting in Alphabet (the Google parent company), Netflix and Amazon who all posted significant increases during January. The Kiwi Dollar rose almost 4% against the US Dollar, reducing the portfolio return to 1.3% in New Zealand dollar terms.
Positives for the fund returns were stock selection within the Financials sector and a low exposure to the Consumer Staples sector which performed poorly. The most substantial contributor to benchmark-relative returns was an underweight to General Electric company who declined to a six-year low during the month as the company considers spinning off parts of its business.
---
Fixed income
All three portfolios (one N.Z and two global fixed income) that contribute to our fixed income strategy outperformed their respective benchmarks this month. The common attribute driving their relative outperformance is their unified underweight Duration stance at present.
In anticipation of a pick-up in inflation expectations, all portfolios have been recently re-positioned for rising bond yields. The specifics of how this has been implemented vary from one portfolio to another although the near-term outlook for the direction for yields remains the same for all. Each manager believes inflationary pressures are on the rise which in turn is likely to see investors demand greater compensation (in the form of higher yields) for the impact higher inflation will likely have on the purchasing power of the income these assets generate.
The strong relative performance of our fixed income strategy this month was not without detractors. Quickly rising government bond yields have started to negatively impact the demand investor are showing for other types of fixed income assets, such as corporate bonds. Both ourselves and our managers hold a range of these securities in our portfolios, which subsequently dragged down each fund's performance.
---
Your KiwiSaver portfolios
The debate surrounding active versus passive asset management has been around for decades. While the debate is old, it has been getting more press in recent years due to the rise of exchange traded funds (ETFs), which have made passive investments more accessible for retail investors.
Investors trying to build wealth for a long term goal like retirement should seek out the best returns they can achieve given their level of risk tolerance. We know that, before fees, a passive fund will generate returns nearly identical to the share market index they mimic — after all, that is their goal. The performance of actively managed funds can differ considerably, with some fund managers underperforming and others outperforming. The real question then is if a select group of fund managers can systematically outperform passive funds over the long term.
There is irrefutable evidence that this group exists, but it is a select list. One thing common among many investors with long term records of success is that they take reasonably large positions in companies where they have done detailed research, see significant upside, and believe they have an investment real edge over other investors. It takes hard work and there are no free lunches.
At Fisher Funds we are active investors. We build concentrated portfolios and believe that our rigorous investment process and independent thinking provides us with a real edge that will generate outperformance for our investors over the long run. The process we go through and how we generate insights and an edge is best illustrated with an example.
Case study: Abbott Laboratories
Abbott Laboratories is a diversified healthcare company we added to the portfolio in March last year. Two of Abbott's largest business segments are medical devices and infant formula, and shortly before we invested in Abbott they acquired St Jude Medical, a leader in cardiovascular medical devices. We believe the outperformance of this position over the last year (up 38% since we invested), can be attributed to both our willingness as a firm to take a long term view, and the rigour with which we pursue different information sources to build a more accurate view of the investment opportunity.
Willingness to take a long term view was important in the case of Abbott because when we first invested its share price was depressed due to investor concern regarding their ability to integrate and grow St Jude. Many investors are so focused on quarterly results that they simply won't look at opportunities like Abbott, where temporary issues could result in some short term volatility. We often look at opportunities in this category and believe they can generate significant outperformance.
Willingness to take a long term view is not enough on its own, you must have unique insights into the business and how it will improve its earning power over time. To develop these insights we pursue lots of different leads. As we had made a number of investments in the medical devices and infant formula sectors historically we had followed Abbott for quite some time. We have been investors in their competitors (including Mead Johnson and Edwards Lifesciences), spoken with ex-employees of Abbott, and had also evaluated St Jude as a standalone investment and spent time with management before they were acquired by Abbott. These interactions, our independent research and ultimately conversations with Abbott management gave us a better sense for their ability to navigate the integration of St Jude (which we believed was a very good business in its own right) and ultimately accelerate its growth.
We also like to invest alongside management teams with long and distinguished track records. In the case of Abbott, management is highly capable and well aligned with shareholders. Miles White (CEO) has been with the company for 34 years (18 years in the top job) and at the time we were looking at investing he had just bought another $30 million of Abbott shares personally. It is important that management teams put their money where their mouth is, and in this case management really were showing belief in their ability to successfully integrate St Jude and accelerate growth.
The last twelve months were good for the international share strategies at Fisher Funds, with the International Growth Fund up 31%, 7% ahead of the global benchmark. There were lots of individual contributors to this outperformance, with Abbott being just one of them. But needless to say this performance wouldn't have been possible without taking an active approach to investment. While there are certainly no free lunches in active fund management, we believe we can deliver long term outperformance for our clients through hard work and disciplined adherence to a proven investment process.
---
Our Chief Investment Strategist explains how our investment team balance risk and return to benefit your KiwiSaver portfolios — in a way that ensures the portfolio composition is appropriate for both your circumstances and the market environment.
In your kiwisaver portfolios we are able to include in a wide range of different types of assets ranging from shares to bonds to property and infrastructure.
How we mix these together depends on the requirements of the KiwiSaver member (people closer to retirement tend to need a more conservative mix) but also on the risk and return prospects of each type of assets.
I am often asked: "Why don't we just pick the assets with the best returns and own lots of them and none of the others?" However, such "market timing" (especially over short time periods) is likely to be a frustrating exercise most of the time.
Why is this? Why is market timing so difficult? It is partly because financial markets can keep going in a direction that defies logic for a lot longer than people expected. Our research shows that while fundamental valuations have a powerful influence on 5-10 year returns, the range of possible short term returns is still very wide.
Also, the catalysts that trigger turning points in markets are not always evident, even after they have happened. History shows that many of the pivotal episodes in markets lacked a single explanation for why they happened at that particular time.
However, we do know that economies do go in a cycle, moving through periods of recovery, boom, slowdown and recession. And we know that markets swing between relative euphoria and relative fearfulness.
These swings mean that even though long term investors get well rewarded for bearing the risk of fluctuations in their returns, the scale of this reward varies over time.
For example in the late 1990s investors in the US sharemarket enjoyed above average returns and low market volatility. In the late 2000s they endured lower returns but twice as much volatility. Ten years ago in New Zealand bank deposit rates were double what are they now and the risk hasn't changed that much over that time.
Clearly we live in a changing world where what the financial markets are offering investors is definitely not a fixed payoff.
So the question is how can we adapt to these changing payoffs?
At Fisher Funds we can adjust the mix of assets in a KiwiSaver's portfolio as the prospective risk and reward changes. While these portfolios will still remain appropriate for a member's circumstances, we try to ensure that they also remain appropriate for the market environment. We believe that this approach is superior to a set and forget approach where markets are assumed to offer up a constant level of return and risk.
---
Could you be paying too much tax?
By Fisher Funds
Despite many of us having different perspectives on money, there is one view that most of us share. No one wants to pay more tax than they need to. It sounds obvious but the reality is that you could be doing just that, if you don't know your PIR on your PIE.
If that sounds confusing, don't let a couple of acronyms intimidate you and keep reading.
What is a PIE?
Some investment products including KiwiSaver and certain Managed Funds are registered as Portfolio Investment Entities or PIE's. At Fisher Funds, all of our funds are PIE's. The benefit of a PIE is that it makes it simple for you, because the calculation and payment of any tax on the investment is taken care of for you. This means that you don't have to include this in your annual tax return, which makes life easier!
How do you make sure you aren't paying too much tax?
The rate that your PIE tax is calculated on depends on the Prescribed Investor Rate (PIR) that you have nominated (see the chart below). Ultimately being on the right PIR is the key to making sure that you are not paying more tax on your investments than you need to be.
There could be many reasons why your PIR may be incorrect.
When you first enrolled in KiwiSaver, you may not have actively chosen a PIR, meaning that you are defaulted to the highest rate.
Perhaps you weren't quite sure what it meant and you chose the number you thought was about right.
We have heard of clients who thought they were choosing the return they were after and they went for the highest number!
Maybe your situation has changed and your income is less than what it was in previous years.
How do you update it?
If your investment is with Fisher Funds you can see your current PIR in online access or on your transaction statements. If it looks out of date then change it through online access or send us an email and we'll take care of it for you.
How to calculate your Prescribed Investor Rate (PIR)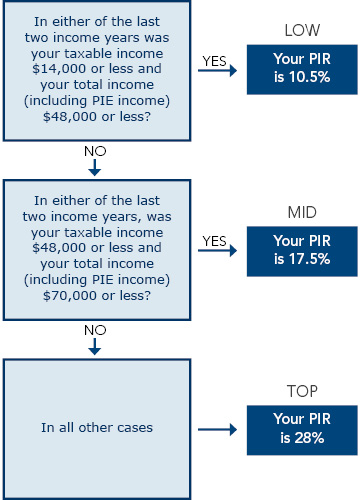 ---