August 2017
Virtual reality or The Beehive?
Following the unbelievable events at the White House over recent weeks, we could all be excused for thinking that economic and social progress in the US is being constrained by national politics. However, in this day and age, politicians and governments are having significantly less impact on human progress than technology changes such as the advent of virtual reality, artificial intelligence and robotics. For example, in the recent earnings season in the US, Bloomberg reports Amazon was mentioned five times more frequently by business leaders than Trump. Amazon represents a far greater threat or opportunity for businesses and citizens than Donald Trump, despite all of the crazy goings on in Washington.
It's worthwhile remembering this as New Zealand heads into another election cycle. I was brought up to believe the democratic process is very important — and it is, however, the biggest impact on our lives over the next two electoral terms is more likely to come from technological progress than from political party policies. Yes, we get excited with leadership changes, poll results, coalition nuances and even those dreadful roadside billboards, but how much does this all really matter? Consumers vote on the kind of society they want by how they spend their earnings every day, not once every three years. Investors do the same. So while we will all take real interest in the election on 23 September and the weeks immediately afterwards, astute investors will be watching the megatrends of our time, and how that will impact their spending power over the longer term. Personally, I will be watching who wins the race for artificial intelligence, not The Beehive.
Best of both worlds
By now you should all be aware that on 3 August the commercial arm of the TSB Community Trust committed to acquiring the remaining 51% of Fisher Funds they do not already own, taking them to 100%. The Trust then intends to sell down about 25% to TA Associates, a global growth private equity firm based in the United States. TA specialises, amongst other things, in investment in funds management businesses around the world.
This is a great outcome for the long term future of Fisher Funds. We have retained ownership, control and operations within New Zealand while gaining access to international expertise and best practice. Ultimately, this provides a strong platform to deliver even better solutions and services to our clients, while retaining our core New Zealand values that the business was built on.
That has to be the definition of the best of both worlds and may well become the model for other noted New Zealand businesses.
Other than the shareholding change, it is business as usual here at Fisher Funds. Carmel is staying on as a Director, our teams are staying intact to focus on generating great investment returns coupled with excellent client service, and there are no planned changes to the products and services our clients receive.
I am confident and optimistic about the future of Fisher Funds, and that our shareholders will continue to support the long run success of both our clients and the business.
Bruce McLachlan
Chief Executive | Fisher Funds
---
Managing your KiwiSaver account
Regular payments make KiwiSaver easy
As we experience every year, lots of our KiwiSaver members "top up" their KiwiSaver accounts in June to ensure they maximise the Government's annual contribution of up to $521.43.
However, you don't have to wait until near the end of the KiwiSaver year in order to do this. You can contribute at any time.
A great way of doing this is by making a regular contribution to your account. We have an online direct debit facility that only takes a minute or two to complete. You have full flexibility as to how much and how often you contribute. Not only is this easy and convenient but you'll never miss out on what's yours. This way your KiwiSaver account is taking care of itself, every year.
Simply click the link below to get started.
---
Your KiwiSaver portfolios: Highlights and lowlights
New Zealand
A snapshot of the key factors driving the performance of markets and your portfolios last month.
The NZX50 delivered yet another positive month in July, adding 1.1% and taking its gain to 12.5% for the year. The New Zealand portfolio gained 2.4%, comfortably ahead of the index. Mainfreight was the top contributor, up 4.9% for the month, during which it held its AGM and confirmed a robust outlook for most of its key markets. The best performing stock in the portfolio was Michael Hill, up 13%. This was particularly pleasing to see as we added to the position following its 4th quarter sales figures release early in the month. Fisher & Paykel Healthcare was one of only four positions to decline (down 4.4%), consolidating after several consecutive months of gains.
---
Australia
An uncharacteristically dry July for investors in Australia with the benchmark ASX 200 Index flat in Australian dollars. With scant company specific news going into the busy year-end reporting season, the share market responded to macro and regulatory changes. The Australian dollar strengthened over the period, pressuring the prospects of global leaders like CSL, Sonic Healthcare and Reliance Worldwide. Portfolio holdings BHP Billiton and Rio Tinto benefited from continued strong pricing for their key commodity exports, while NAB, CBA and Westpac were strong when regulators quelled fears that the Australian banks would have to cut dividends to raise capital.
---
International
International shares underperformed the benchmark in July, rising by 0.1% versus the benchmark return of 0.4%. This was mainly due to a higher than benchmark exposure to the Healthcare Sector, which lagged behind other sectors during the month. Our underweight to the Consumer Staples sector contributed positively to returns as the sector also performed poorly during the month. The New Zealand dollar rose +2.4% versus the US dollar, dampening returns.
We were hurt by stock selection within Western Europe and added value through our picks in the Pacific Rim region. Our other regional exposures had little effect on the difference between the fund and benchmark returns.
Top contributors to returns were Facebook and Rio Tinto, continuing their strong momentum, up +12% and +9% respectively. Norwegian Telecommunications firm, Telenor rose 14% after a cost-cutting initiative boosted profitability and the company unveiled a new stock buyback. Major detractors included Pharmaceutical giant AstraZeneca Plc, which fell 11% during the month, after they faced a major setback in a lung cancer drug trail and IBM fell 6% after announcing falling revenues again — for the 21st quarter in a row.
---
Fixed income
Pleasingly, our New Zealand Fixed Interest portfolio had another strong month with returns again outstripping that of its benchmark. The portfolio is now approximately 1% ahead of its benchmark over the last twelve months. Its outperformance this month came from our long-held decision to maintain a greater level of interest rate exposure in our portfolio (as bonds again returned to favour) and holdings in selective corporate investments that continue to rise in value on the back of strong demand (for what we believe to be still attractively valued bonds).
Our external managers remain broadly underweight interest rate exposure (i.e. duration) across most major developed fixed income markets. In times when interest rates are either stable or falling this will drag down their portfolio's performance. This was indeed the case month, reversing a similarly positive contribution this made to returns last month (when interest expectations around the world rose).
---
Your KiwiSaver portfolios
Culinary convenience no guarantee of share market success
By Mark Brighouse, Chief Investment Strategist
The idea of prepackaged "meal kits" that are delivered to your door is a global phenomenon. They take the stress out of deciding what to have for dinner and ensure that the customer has all the fresh ingredients, in the right proportions that they need for feeding their family.
In New Zealand, many people are customers of brands like My Food Bag, Bargain Box, Just Cook It or WOOP. In Australia, there are dozens of companies offering such services and in the US, there is estimated to be more than 150 meal kit delivery services.
When the first of these companies listed on the New York Stock Exchange recently, there was a great deal of interest. Blue Apron Holdings initially indicated that its shares would cost between $15 and $17 in the offering but reduced this range to $10 to $11 based on investor feedback. The deal was finalised at a price of $10 per share but even this lower price did not guarantee a successful listing.
The shares declined 20% over the first week and then took a further hit when Amazon announced that it would acquire grocery chain Whole Foods (indicating that the mighty Amazon could now easily enter the meal kit market themselves). At the time of writing the shares are trading at $6.70 (about a third of the value that the top of the initial range suggested).
This saga provides a useful reminder of why buying into new listings is not always a recipe for making money. We always believe that investors should have a high bar for evaluating IPOs because they don't have a track record as a publicly listed company. It also reminds us that just because they are the only listed company in an industry doesn't mean that they are without serious competitors. Such competitive threats can come from companies that are in similar industries and have the capability to easily move into adjacent markets.
When you buy shares in an established listed company you are likely to be buying from someone who has arrived at a different view based on the same information that you have. But with an IPO you are likely to be buying from someone who has owned the business for a while and who knows all about the challenges it faces and the weaknesses it has.
So given the smorgasbord of investment opportunities available out there, there is no need to treat new IPOs as something special that must be consumed straight away. IPOs will always have rosy short term prospects and while the prospect of gaining from the first day "pop" that IPO shares often experience is tempting, be sure to do your homework. Asking yourself what is so special about this company is a good place to start.
---
Investing lessons from the Tour de France
By Manuel Greenland, Senior Portfolio Manager, Australian Equities
The 2017 Tour de France was a sporting spectacle. Having four New Zealanders in the pro-peleton this year made it particularly exciting. The 21 stages of the race offered high drama as the best cyclists sought to overcome the demands of traversing France in their hunt for the yellow jersey. A public, high stakes competition, fought over an ultra-long distance in challenging conditions; what it takes to be a winner at the Tour de France can teach us some important lessons for investment management.
In fact, there are lots of winners at the Tour de France. The best young rider, the King of the Mountains, the best sprinter. The winners of these various titles are single-minded specialists. King of the Mountain contenders, for example, aim to be the very best on the great climbs of the race, but hope just to survive on the fast flat sprints. The best investors similarly aim to perfect their investment approach so as to generate great returns when opportunity presents, but also to survive the times when their approach is out of favour.
Of course, there is one overall winner. In 2017 this was Chris Froome, who did not win any of the other titles, nor did he win any of the race's 21 stages. Froome happily let his rivals chase smaller objectives, while keeping his eyes on the prize at the end of the 3,500km race. Half-way through the race, Froome's lead was temporarily snatched by Italian champion Fabio Aru. Froome's competitors questioned his ability, the press doubted his strength and his support waned. Froome stuck to his game plan and was ultimately triumphant. Investors with a long term focus, the ability to avoid chasing short term trends and the fortitude to endure temporary underperformance ultimately deliver winning results.
When Froome's adversaries attacked, his team, the legendary Sky, responded. When his bike broke down, team-mates gave him theirs. His strongest team-mates sheltered him from the winds, the lightest paced him up hills, and the most enduring took him safely across stage finish lines. History's greatest investors surround themselves with skilled, hard-working teams to create strong results. Differing strengths allow the team to best respond to changing conditions and challenges.
While the race itself was exciting, frankly Froome's win was somewhat boring to watch. He and Team Sky were predictable most of the time. They assumed a strong position, and executed their game plan clinically. A great deal happened around them; crashes, attacks, and disqualifications, but Sky just sat there pedalling. Outstanding investors have to be willing to be boring and monotonous in executing their plan, because there is no telling when the share market will reward their effort. After 21 days and 3,500km of racing, Froome won by just 54 seconds, adding a fourth Tour de France victory to his record. Great long term records are built with determination, patience, effort and a little luck, whether in cycling or investing.
---
A no frills or no regrets retirement — what's it going to cost you?
By Michael Raynes, Head of Distribution & Communications
When the weather is as wet and miserable as it has been over the last couple of months, it's easy to find yourself drifting off and thinking about escaping to somewhere warm, soaking up some sun and lolling about by the pool. If only we had the freedom to escape on a whim.
Isn't that what retirement is meant to be like? Now you've stopped working, you've got all of this extra time to do as you please and tick off the bucket list. Whether it's more travel, indulging in a new passion, buying that classic car or something else.
Of course, with more time at your disposal there's every chance you can spend more money than you did when your days were full working.
Running out of money in retirement is a real fear for many people and it has a big impact on their behaviour. More Kiwis are working past 65 than ever before; some scrimp and save on every penny, others take on more risk hoping to generate the extra income they need.
So what is retirement going to cost you? Well, it really depends on whether your taste is more baked beans or caviar, and what part of the country you live in.
Westpac Massey University Fin-Ed Centre has just released its fifth update to the New Zealand Retirement Expenditure Guidelines. These are based upon actual levels of spending in retired households as determined from the Household Economic Survey.
The report provides two sets of guidelines. The No Frills guidelines reflect a basic standard of living that includes few, if any, luxuries. The Choices guidelines represent a more comfortable standard of living, which includes some luxuries or treats.
The following table summarises the weekly living costs of a typical two person household (excluding accommodation costs).
 
2016
NZ Super
Gap
No frills — Metro
$526.58
$591.94
N/A
No frills — Provincial
$679.50
-$87.56
Choices — Metro
$1,095.20
-$503.26
Choices — Provincial
$1,010.95
-$419.01
Only the no frills — Metro group's weekly costs are covered by the weekly New Zealand Superannuation payment — $591.94 per week at time of report writing — since increased to $600.30 from 1 April 2017. Everyone else needs income from other sources to bridge the gap.
While at first glance, the lump sum payments you would need at retirement to fund the difference between NZ Super and the Retirement Expenditure Guidelines might look a little eye watering (see table below), if you have time on your side, you can realistically save these sums.
 
Weekly Gap
Savings required
Weekly Savings
(if starting at age 50)
No frills — Metro
N/A
Nil
Nil
No frills — Provincial
-$87.56
$78,144
$98
Choices — Metro
-$503.26
$486,023
$608
Choices — Provincial
-$419.01
$402,682
$504
Starting earlier substantially assists the level of savings required. For example, if a couple starts to save at age 40 the weekly savings required to achieve the lump sum of $402,682 for a Choices — Provincial Two-person Household reduces to $286 per week.
KiwiSaver is obviously a great help in this regard with the turbo boost from employer and government contributions. A person earning the median weekly wage of $937 in 2016 and making the minimum contribution of 3%, and receiving the employer contribution of 3%, could expect to save $58,974 if starting at age 50. Starting at age 40, the expected KiwiSaver savings would be $117,500.
So on the next rainy day instead of dreaming about tropical island getaways, spend five minutes crunching what your retirement numbers look like.
---
What is the impact of currency on your portfolio?
By Mark Brighouse, Chief Investment Strategist
"There is no sphere of human thought in which it is easier to show superficial cleverness and the appearance of superior wisdom than in discussing questions of currency and exchange."
— Winston Churchill, House of Commons, 1949
Winston Churchill was ready to acknowledge that while many people will be prepared to offer views on the direction of exchange rates, in reality, very few will have superior views on the future of something that is so notoriously hard to predict.
With that in mind we prudently avoid the temptation to try and pick short term currency market moves in order to generate trading profits. Instead, we look at what currency exposure does to the risk of a portfolio and ask ourselves the most important question which is: what are the possible currency fluctuations we are comfortable with and how will the portfolio be affected?
The future revenues of companies can be very dependent on currency levels. A weaker currency boosts the revenue of exporters while making life much more difficult for importers, and vice versa. In our New Zealand portfolio, for example, a number of our companies have significant offshore operations and earnings so movements in the Kiwi dollar are very relevant.
Corporates typically protect against movements in currency in three different ways: hedging using an array of financial instruments, matching offshore assets against offshore liabilities (borrowing in the country/currency you are investing in) or by matching offshore revenues against offshore costs (shifting operating costs to the country/currency you receive your revenue in).
While the New Zealand dollar has been relatively stable against many of our trading partners over recent years (such as the Australian dollar or the euro) it has risen sharply against the British pound and US dollar.
The weakness in the British pound is related to their steps towards Brexit. After the June 2016 referendum the British pound slumped against most currencies resulting in the New Zealand dollar buying around 20% more in the UK. In the US, after some initial strength in the US dollar in the months following the Presidential election, the US dollar has weakened this year as a more realistic view has emerged of the challenges that President Trump faces in boosting growth in the US.
There isn't a clear New Zealand factor behind these exchange rate moves and in fact the outlook for low and stable interest rates here is a negative influence. For a long time the New Zealand dollar has been supported by our high interest rates. However, this attraction is fading.
We have been hedging against US dollar weakness but we believe that at current levels the risk reduction benefits are reduced. Any financial market volatility could mean share price weakness along with New Zealand dollar weakness so investors may find that some currency exposure gives a welcome offset to share price weakness.
There is potential for currencies to be volatile in future. If the polls are to be relied upon, the upcoming New Zealand election will be close and could deliver a range of outcomes. If there isn't a clear result and we see a protracted period of coalition negotiations, uncertainty may see the New Zealand dollar lose some of its recent strength and be more volatile.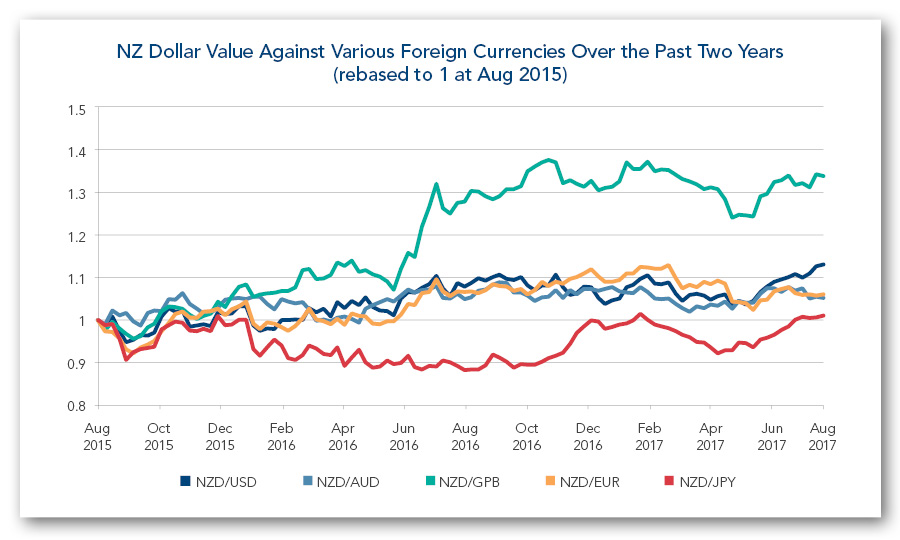 ---